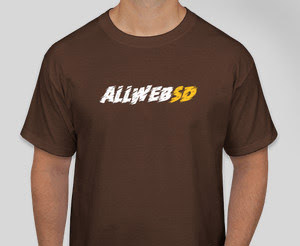 Become A Guest, Receive A Shirt!
Yep, it's that easy! Tech enthusiasts across San Diego, this microphone is your home. When likes and shares aren't enough, stop by and let your voice be heard. I'm here to foster innovation through conversation.
Software Engineers, Data Scientists, UX/UI Designers, Technical Product Owners, Business Analysts, Small Business Owners and more will always be welcome to AllWebSD. To make an appearance, please contact me today!
👋🏾, I'm Mark!
On a daily basis, there are more than a handful of things running through my mind once the caffeine kicks in. Is this new technology the latest and greatest or just the flavor of the month? What idioms from different programming languages cross over into my realm? How big is my bug queue? Did we groom our backlog? Are my estimates accurate? Do I even have a comp? Will my solution scale?
I'm in depth with the presentation layer of your web experience. But before ever diving into code, I'd need to first understand your core business.
years in web, with the last in front-end web development. I've been hands-on with publicly traded companies such as Sony Electronics, The Active Network, Bridgepoint Education and Thermo Fisher Scientific.
I'm currently working on new web application initiatives for SleepScore Labs—a joint venture between Dr. Oz, ResMed and private equity firm Pegasus Capital Advisors, L.P. SleepScore Labs is focused on helping people understand and improve their sleep.
Why The Podcast?
I made this podcast in hopes of reaching out to others within the web development field—to let you know that I'm in the trenches with you when it comes to code. I get excited host how our profession moves forward rapidly but at the same time I'd be lying if I said I've never been confused about it as well. That said, I felt compelled to process my thoughts through audio. I hope you enjoy these segments and please feel free to provide feedback.
For questions, sponsorships or appearances on this show, please send me an email today!